Superbook Storybooks introduce a new generation to the joy of reading and discovering timeless Bible truths. Young children will join Chris, Joy, and the lovable robot Gizmo as they travel to biblical times and learn important life lessons.
Wonderfully illustrated featuring scenes from the Superbook animated series, children are sure to be delighted as they follow along with the easy-to-read stories. Each book features engaging, age-specific content that coordinates with Superbook DVD stories. The Superbook team includes Emmy-winning artists and storytellers, whose credits include Mulan, The Lion King, and Beauty and the Beast.
Superbook Storybooks make a perfect gift for the precious young ones in your life, and are sure to become a favorite for bedtime reading!
He is Risen!Superbook takes our heroes to meet Jesus and Mary. Witness the obedience that led Jesus to the cross and the power of His Father who raised Him from the dead! (4–6 years)
A Giant AdventureSuperbook takes our heroes to see Goliath. The giant is no match for the faith of David, a young shepherd. Discover how to conquer every fear by trusting God! (3–6 years)
Let My People Go!Superbook our heroes to see Moses challenge Pharaoh and lead the Israelites out of slavery in Egypt. Witness the plagues, miracles, and parting of the Red Sea. See how all things are possible with God! (3–6 years)
Noah and the ArkSuperbook takes Joy, Chris and Gizmo to meet Noah. He builds an ark and is saved from a flood with his family and the animals. Discover how God cares for those who trust Him! (3–6 years)
The First ChristmasSuperbook our heroes to discover the greatest gift of all time. Witness the wonder of the newborn King lying in a manger! (3–6 years)
Order your copy today—only $6.99 each. Free shipping and handling.
Superbook Storybooks make perfect gift for the kids you love! Please order by April 6 to ensure Easter delivery. To order by phone, call toll-free: 800-700-7000
Pre-Order New Books Coming This Spring!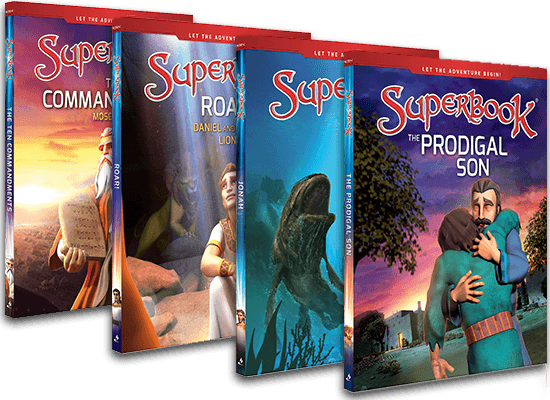 The Ten CommandmentsSuperbook takes Joy, Chris and Gizmo to see God give Moses the Ten Commandments. Learn how God's rules are for our protection! (3–6 years)
Roar!Superbook takes our heroes to meet Daniel, who risks his life to do the right thing! See how faith in God gives us the power to do what is right. (3–6 years)
JonahSuperbook takes our heroes to meet Jonah, who runs away from God and encounters a gigantic fish! Discover how God wants to show mercy to everyone. (3–6 years)
The Prodigal SonSuperbook takes our heroes to hear Jesus tell an amazing story that shows how our loving Heavenly Father is always ready to forgive. (3–6 years)
Available in the USA and Canada only.
In USA, order below or call 800-700-7000
In Canada, call 877-431-7887
Available while supplies last.
Order your copy today for a gift of only $6.99 each!